My bread-and-butter setups are typically swing trades. 
However, from time to time I'll dabble in some shorter-term trades. 
But for me to delve into that arena certain criteria must be met. 
As you know, I'm a big fan of momentum stocks. I like the action they provide and liquidity.
That's why I want to show you how I trade breakouts with stock options— for some quick cash.
Just yesterday, I spotted a setup on Peloton (PTON) running into earnings. I used a 10-minute chart to grab a long entry.

This was my P&L midday yesterday for LottoX.
So, why would I buy short-dated options on a stock that had earnings coming up during the week? That sounds like a death sentence!
Let me walk you through my thought process and how I put together this LottoX trade.
Whether you see me playing a 5-minute chart or a weekly chart, I always rely on my TPS strategy. The only change I make is adjusting it to the timeframe I'm working on.
For example, when I trade off the daily chart, I'll be looking for daily closes to stop out on my trades. If I have a stop loss level below the chart pattern, then I wait until the day finishes out, unless the market is moving too fast.
With intraday setups, I might lean on hourly closes if I'm using a small enough timeframe like the 5-minute chart. However, if I'm working with hourly or 78-minute charts, I'll still look towards the daily close.
Second, I pay close attention to the height of the setup. I need to make sure that if I enter an option trade long, the stock will move enough to deliver a profit on the call option. Sometimes, I'll opt for buying the stock outright if the range is too small. Otherwise, I might get eaten up by the bid/ask spread.
Lastly, I stick to my entry price and my plan. With intraday trades, I've got less room for error, making entries and exits that much more important. If the stock never hits my entry, so be it. There's always another trade around the corner.
PTON setup
Peloton reports earnings on May 6th. I don't like to hold stocks through earnings. However, I will play them up into earnings.
If you didn't know, implied volatility on a stock increases as it approaches earnings and then declines afterward. 
Think of implied volatility as the demand for protection. Initially, we don't know what the company will report. So, we bid up options. Once they release their numbers, investors can price the stock more accurately.
Now, implied volatility is one of the three components that make up the price of an option. The higher the IV, the higher the option price.
So, if I trade up into earnings, increases in IV will benefit my holding.
Looking at the chart, I want to show you the TPS setup I saw intraday.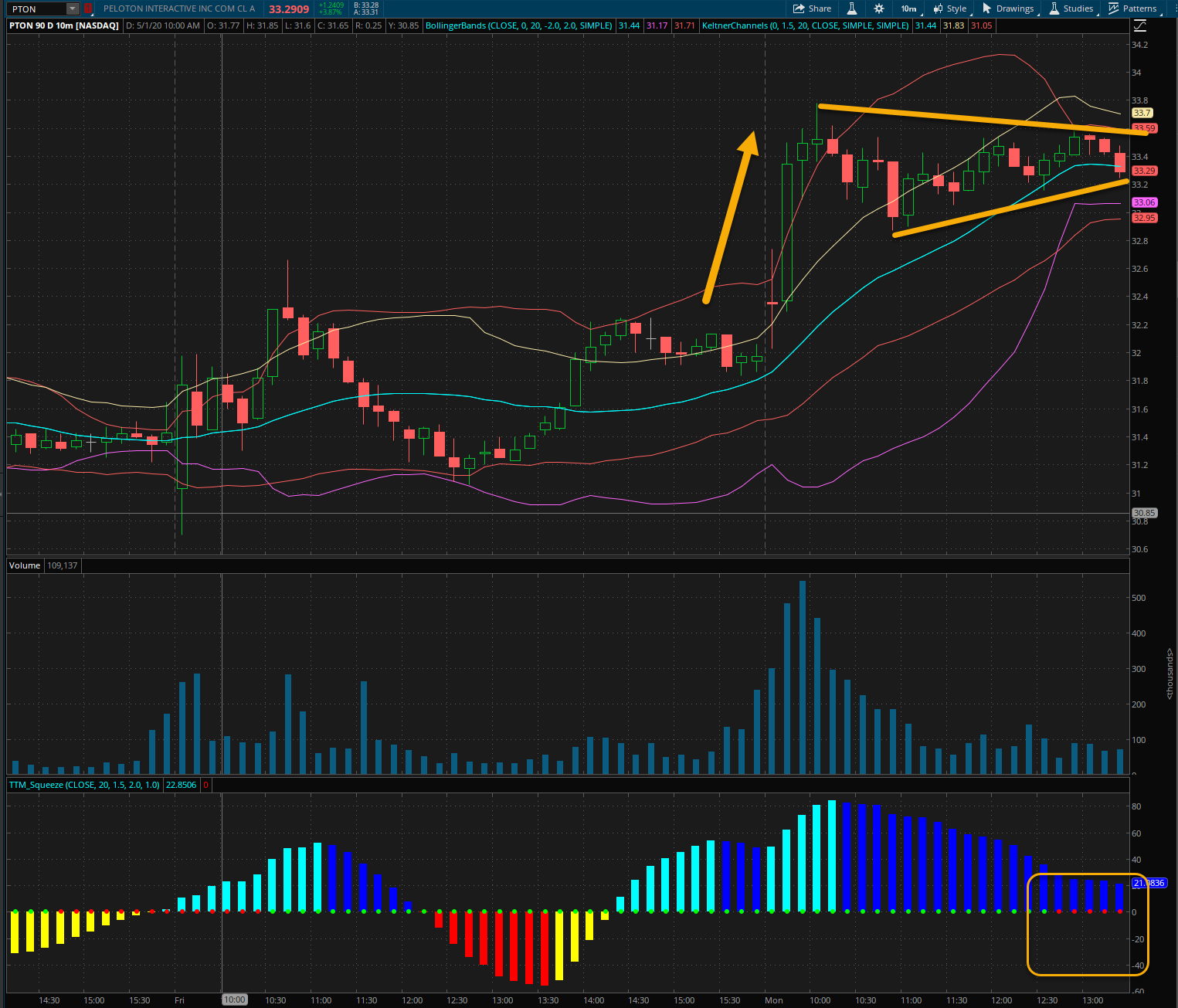 PTON 10-Minute Chart
If you're not familiar with my TPS setups, they contain three key ingredients. First, a clear trend. In this case, the push higher early in the day established that for me.
Second, a consolidation pattern. When I connected the highs and lows of the candlesticks to form two trendlines, I noticed they were converging on one another. That's a common chart consolidation pattern where the range compresses over time.
Third, I like to see a squeeze. This is denoted at the bottom by the red dots. It occurs when the Bollinger Bands trade inside the Keltner Channel. This tells me the stock is ready to make an explosive move.
So, using the lowest point in the chart pattern as my stop out, I went ahead and bought some call options that expire on Friday. I eased into this position, giving myself some room to add when and where I felt necessary.
Typically, I'll enter my trades between the 8-period and 21-period exponential moving averages.
If the stock starts closing hourly below $32.87, I'll look to gracefully exit the trade.
Not all trades are created equal
Just because it looks like a TPS setup doesn't mean the trade is worth taking. If I find an intraday setup, but it's running into longer-time frame resistance (IE the daily 200-period simple moving average), I'll pass.
With all of my trades, I want them to move in harmony with the market as much as I can. It's much easier to trade with the current than against it.
One of the best places to start learning about the TPS setup is at my upcoming webinar. It's free to register and you get to learn how I went from 8 years of losing trades to finally turning a $38,000 account into over $2,000,000 in just two years.