We all strive to maximize gains and while cutting down on our exposure to risk…
It's a balancing act.
And while it's true—it's a lot easier to make $100 when you risk a $1,000 vs. if you start with $10.
However, most investors believe that buy and hold is a strategy that reduces risk.
That's simply not true.
For example, imagine investing in the Canopy Growth Company (CGC) on its IPO day and held. You'd be down almost 20% now.
I'd rather pick my spots, put risk on when I have the idea setup—while applying less capital.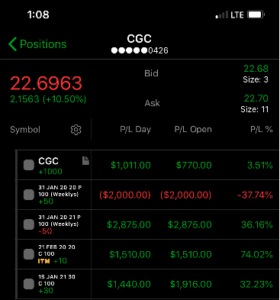 This swing short-term trade lasted less than two weeks!

Short-term trading employs digestible – accessible chart analysis that doesn't require a Ph.D. in economics.
With defined risk and reward parameters—it can't be beaten.
Today I'm going to walk you through a recent trade on pot stock CGC, its setup, and why it was so darn effective.
I'll explain why you shouldn't get fixated on the fundamentals, why execution is so important, and a lot more.
Whether you like pot stocks or not, it should be obvious that they carry a lot of baggage. Government regulations continue to change, making it easier and more acceptable to buy and sell cannabis products.
That doesn't mean the risk of a sweeping government shutdown is off the table. Despite many U.S. states passing laws to legalize marijuana in one form or another, it remains illegal at the federal level. And it's not just the U.S. Plenty of countries around the globe still remain opposed to legalizing the trade.
So when you buy the stock for a long-term investment, you get to worry about all that plus a burgeoning industry that's in its infancy.
Short-term trading ignores all that hullabaloo. Instead, the chart setups dictate when you enter and exit your trades.
For example, the setup for the CGC trade I noted above came directly from the chart.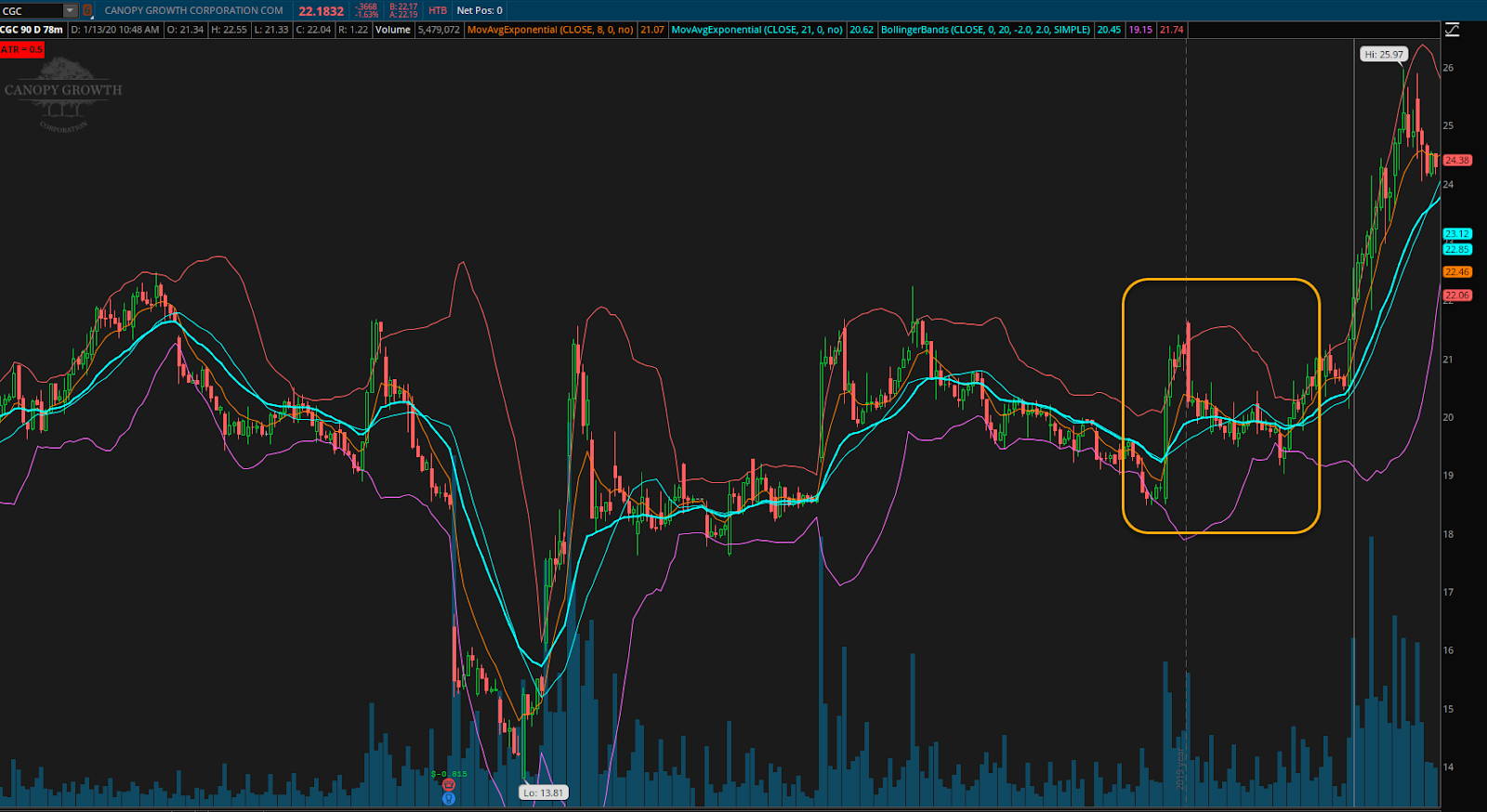 CGC 78-Minute Chart
My goal was to finish this trade in under two weeks. That meant corporate earnings didn't come into play, nor many market data at all. In essence, I cut it down to the price action I saw on the chart
More Product Choices
Long-term investing requires long-term products. Investors by stocks, ETFs, or mutual funds to hold. While that gives them ownership of the companies and voting rights, they're not very flexible.
Conversely, short-term trades open up the world of options. Options allow me to manage my capital efficiently and create strategies that work for me. Instead of worrying about a giant gap down overnight on some news, I limit my risk with options trades that give me leverage. I get to participate on the upside with defined risk on the downside.
But that's not the best part. The short-term trades also allow me to create neutral strategies or ones that are slightly bullish or bearish. Instead of making a call of the stock going up or down, I can sell option credit spreads that let me bet it isn't going any lower or higher. That's completely different, and in some cases, carry 80% plus the probability of success.
Clear Entries & Exits
Every trade I enter starts with a clear target and stop area. I know exactly how much I plan to risk, along with what I could lose, my potential gain, and roughly how long it should take.
Fundamental investing doesn't always work like that. It's a lot more squishy in where you enter, certainly where you exit, and definitely how long it takes. That makes it difficult to allocate the right amount of funds.
I find short-term trades less risky precisely because they have a clear definition. Go back to CGC. Think about investing in a business like that and how much it could be worth. Would you really know when to get out?
Plenty of angel investors get out of their stocks far too early, while others hold on way too long. In both cases, they leave massive stacks of cash on the table.
Frankly, I'd rather avoid it all. Instead, my trading strategies give me a consistent income that delivers every week. That's much easier to plan a family with four kids and a dog on than the uncertainty of long-term investing.
The Ultimate Short-Term Strategy
Trading fills my very bones and every breath I take. That's why I'm excited to introduce my LottoX service this afternoon at 2 P.M. Join me for this free webinar where I unveil a product that's unlike anything you've ever seen.