With four kids at the house, it's made my trading more difficult and forcing me to be less active. 
Just yesterday I found myself fixing a trombone!
When I do catch a few moments to look at the charts, I need a way to pick out the ones with the best chance for success.
That's why I lean on relative strength and you should too!
I'm not talking about the indicator you can drop into your charts. 
No, I'm talking about stocks that are outperforming the broad market. 
For example, I used the recent strength in Netflix to smash a trade in Weekly Money Multiplier while the market couldn't catch a break.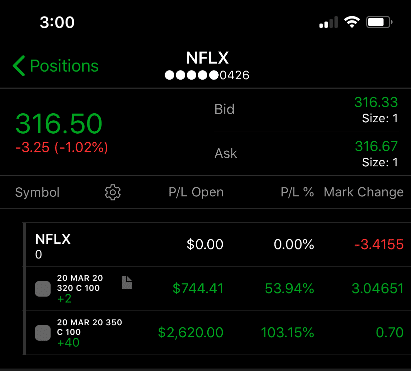 Trust me, being down 1% in this market is king of the mountain.
Some of the best long trades in the market recently have been relative strength plays. 
If you don't know how to find these stocks, and more importantly, how to capitalize on them—you're in luck. 
Because today's lesson is all about how to turn relative strength into profits. And I'm going to walk you through it, step-by-step.
I want you to look at these two charts of the SPY and Kroger (KR) and tell me which one looks better.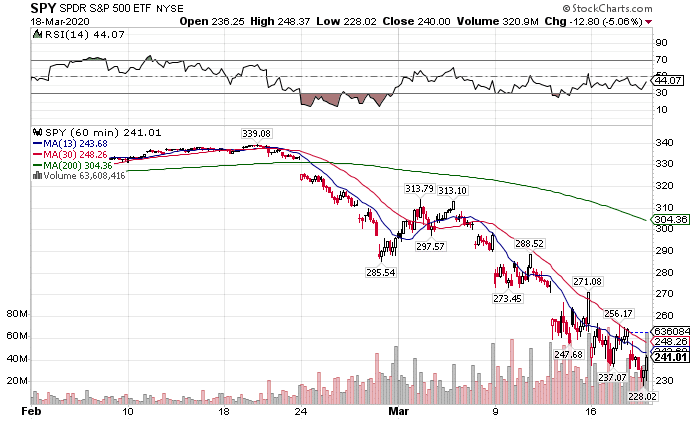 SPY Hourly Chart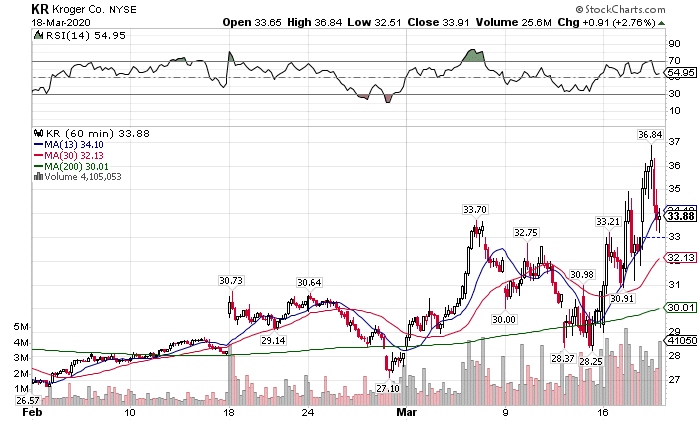 KR Hourly Chart
These two charts aren't even headed in the same direction. Kroger clearly exhibits a bullish trend, while the SPY is melting away (which you probably already knew).
This is what I'm talking about with relative strength. You find stocks that simply work better in this market than the overall average. Sometimes they outperform by a lot, other times by just a little bit.
Take Netflix for example.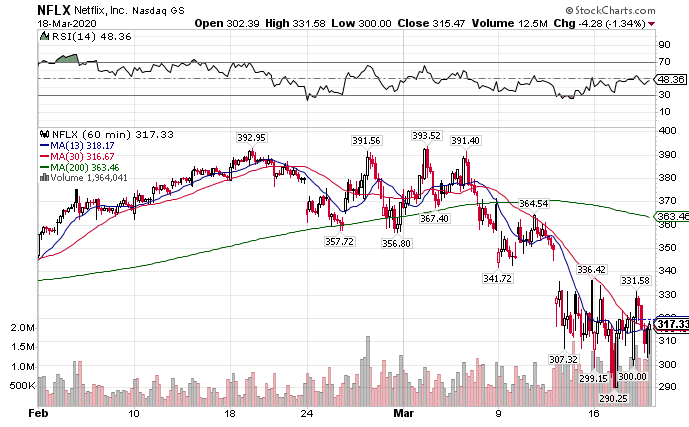 NFLX Hourly Chart
Price is in a downtrend like the SPY. However, it's noticeably better. 
First, you can see how it managed to ride above the 200-period moving average all the way through the first week of March, while the SPY broke down in late February. Second, you can see how its recent price action kept it within a range rather than sliding like the rest of the market.
Sure, there's a story behind this stock. People are stuck at home and need entertainment. I totally get it. But, that doesn't always have to be the case.
Check out LK Coffee (LK). This IPO is a coffee chain in China. That's about as bad as it gets.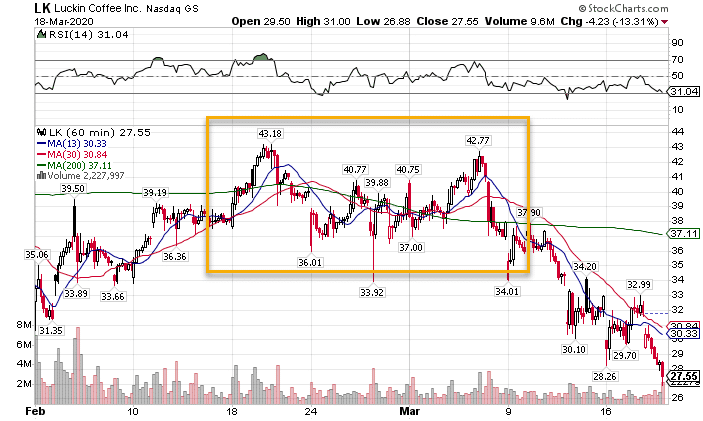 LK Hourly Chart
As the rest of the market broke down, this stock randomly managed to stay in a trading range for quite some time. Does that make sense? Nope. Did I make money off it? You betcha.
Now that we've got an idea of what they look like, let's discuss how to find them.
Finding Stocks With Relative Strength
I'm going to give you a few ways to find these stocks quick and dirty.
Return for the last few days twice as good as the market –

This market is brutal and isn't kind to any company. So, when I see stocks that outperform the market over a few days by better than twice the index, it makes me take notice. 
Market is down on the day but the stock is up –

One day doesn't make a trend. But when you have limit down days and you find one equity that's in the green, pay attention. It may not offer a trade now, but it should be added to your list.
Scan for stocks above their 21-day exponential moving average

–

Most stocks have been decimated at this point. Any one that is still above the 21-day EMA is an outlier. There aren't many of these, but there are a few.
Think of the stay at home theme

– Right now everyone is stuck in their house or busy plundering their grocer. So, think about who stands to benefit? That's why stocks like Teledoc, Zoom, and others that enable working from home are being bid up.
You don't have to go through all of these scans during the day. In fact, doing it overnight is preferable since you can objectively look at them (plus your kids might be asleep).
I like to create a watchlist with the stocks. My platform has features that allow me to monitor them in real-time. However, you can always keep them in an excel spreadsheet or a notepad. Both work.
Once you have the stocks identified, look for your setups. Don't force the trades. Let them come to you.
Stick To Your Gameplan
Over the years, I found it tough to keep with my strategy, especially in markets like these. There aren't many trades I like, requiring way more patience. However, I learned that's the difference between making and losing money.
I know a lot of folks struggle to find solid trades in this market. That's why I created my LottoX service. It gives you access to my trades that get you in and out of the market in a matter of days to hours. That lets you avoid a lot of the risk holding anything too long in this market.
Check out a replay of my recent training where I explain what it is and how you not only get my trades but some great education directly from me as well.
Click here for access to my exclusive training here