I never used to worry about buying and selling options on the SPY, and why should I have? It's the most liquid ETF and options available.
Fast forward to yesterday morning's limit down, and I questioned how wide the spreads would be on the SPY put options I bought that expired on Monday.

These spreads are still wide even after an hour of the market trading!
I'm pulling out all the tricks in my magic bag, and wanted to share some of them with you in case you end up in a similar situation.
You see, extreme volatility leads to wide spreads that favor the market makers. Under normal circumstances, I would expect the SPY options to have a few pennies between the bid and the ask. 
Now, it can take 30 minutes before they even come within $1.00 of one another. Even then, I'm lucky to get a fill.
So, here are 5 ways I keep the market makers in check and money in your pocket.
I'm a big fan of looking for opportunities among momentum stocks. However, this isn't the time to go bold with thinly traded equities and even more so those with rarely traded options.
Obviously, the SPY is the gold standard for options. Mid and small-cap stocks that only have quarterly options probably aren't good choices. Stocks like AMD, AAPL, AMZN, or any other big names work well in this market. That doesn't mean I ignore my favorite stocks. But, I am more selective about when I trade them.
Also, pay attention to weekly vs quarterly options. Typically, weekly options are fine with decent volume behind them. In these markets, they become a lot thinner. People are gravitating more towards quarterly options at the moment. So, take this into consideration when you look to enter and exit trades.
2) Use Stock To Offset Your Positions
Stocks trade way more actively than options do. Compare the number of SPY contracts that trade per day to the number of shares, and you'll see what I mean.
If your account allows for it, you can use stock to offset your option positions. Remember, every option contract controls 100 shares of stock. So, when I wanted to offset 3 of my 5 put contracts on the SPY, I bought 300 shares of the SPY in the premarket.
You can also use futures to offset your positions in the major indices as well. However, they are prone to tighter limit restrictions. We've already seen them halted overnight more than once in the last few weeks.
Pro Tip – Remember that you would buy stock to offset long puts and short stock to offset long calls. However, if you're in an IRA account or some other restricted account, you may not be able to short equities, so keep that in mind.
3) Work With Option Pricing Calculators
Some brokers offer option calculators as part of their platform. You can also build them in excel, or find free ones online. They don't require much and can be an invaluable tool.
Option calculators can give you a theoretical price based on the time until expiration, implied volatility, current stock price, and strike prices. This may not be the price you ultimately get, but it's a great place to start working from.
4) Use Midpoints Cautiously
Most option platforms will give you the midpoint of the bid and the ask as your suggested price. Be VERY VERY CAREFUL! These prices are based on the current bid and ask, which can be easily manipulated.
Heck, I've seen it where the midprice changes based on the orders I put in!
Look at the volume on the option chain and see how many contracts have been traded. The more trades you see, the more likely it is that the midpoint will be useful. Otherwise, I'd rely on a calculator.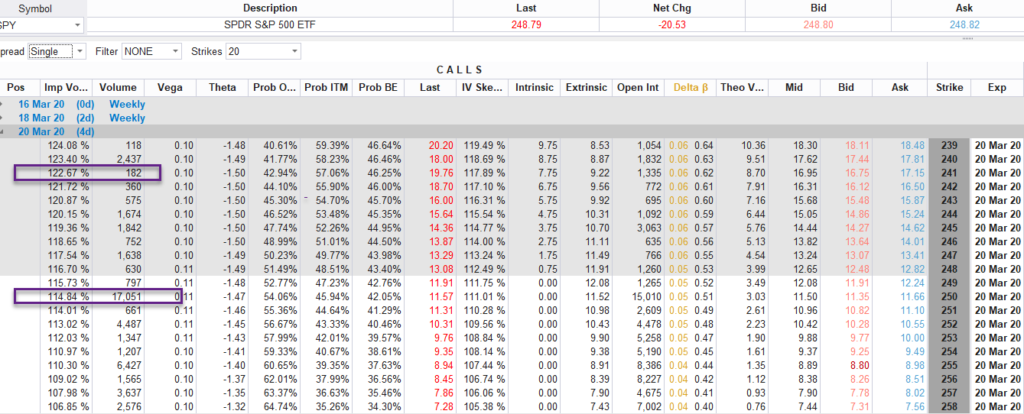 I'd much rather use the contract that did 17,000 trades vs 182!
5) Work Your Way Up In Increments
Let's say you're ready to place your order, and you have an idea of what the option should be worth. 
Here's a step by step to try to get a fill.
Come up with the price you think the option is work using a calculator or other methods.

Determine the maximum you're willing to spend on the trade.

Start with one contract and a better price than your expected price.

Work your way up in increments of 1c, 5c, or 10c.

Give each price about 30-60 seconds to try to fill before going to the next one.
This doesn't guarantee you get a fill. But, it gives you more control over your trade. Plus, if you plan on doing multiple contracts, starting with one gives you an idea of how much additional risk you want to take on.
Be Prepared When Things Turn
The best advice I can offer anyone is to be patient and wait until the moment is right. That's when you execute your strategy.
In my upcoming webinar, I discuss how I manage my trading from developing my strategy to risk management. You'll learn how I created my TPS system that let me turn my $38,000 account into over $2,000,000 in just two years.
Take a step back, and join me for some great education.