This week came, I taught a select group of traders one of my favorite trade setups in a private training session.
While I rarely share these trades outside those walls…
Since you're a valued subscriber, I wanted to reveal the setup I taught because I genuinely believe it can be beneficial to your trading right now.
What's the setup?
Well, it takes advantage of a quirk around options expiration week.
Basically, I look for markets to make a low the Thursday or Friday the week BEFORE options expiration week.
Using that bearish thesis, I combined it with news that Jerome Powell was speaking to frame the setup.
I bought put options on the SPY, and I kept my position small and waited for things to work or fail.
It just so happens markets cooperated, dropping dozens of points and leaving me with a sweet profit.

Learn this trade setup today, and you'll have another tool in your belt.
Options expiration week (known as OPEX) happens on the third friday of every month. If that Friday is a holiday, it falls on Thursday.
There are also quarterly expirations in March, June, September, and December.
During options expiration week, market makers and big money often try to move stocks and markets to get traders to drop their positions at a loss.
It leads to increased volatility, with price swings in both directions.
The data behind OPEX week
What's fascinating about OPEX week is how consistent some of the movements are.
I had one of RagingBull's research analysts run some statistics on the SPY. 
He looked at how different ways of trading it over the last 20 years would play out.

Take the first column for example.
It says if you bought the open on the Thursday before options expiration week and sold on the close of Monday on options expiration week, over the last 20 years, you would win that trade 57.19% of the time and make a little money.
For reference, the average day in the market is bullish 53% of the time.
Look at the fourth column.
It says if you buy the SPY on the Friday before options expiration week and sell on the close of Tuesday during options expiration week, you would have won that trade 67.19% of the time with almost a 0.5% profit.
That is a statistical anomaly worth noting, and one that frames my trade idea.
Look for a low the week prior
Knowing that the market likes to run up from Friday into Tuesday, it makes sense that it should try to make a low before that to give it the extra juice.
That's where I look for a potential trade.
In this case, I combined that with a Fed speech by Jerome Powell.
If you watch markets regularly, you'll notice how they tend to sell off in and around speeches by the Federal Reserve chairman.
Using that as my base assumption, I walked into a chart that looked like this.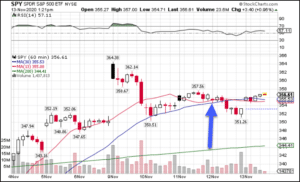 SPY Hourly Chart
This gave me a pretty easy setup to work with.
I had a high from the day prior, $357.56, to trade against. 
So, buying put options to bet the market would go down if the SPY started to close hourly above that price, I would exit the trade for a loss.
Otherwise, I watch the market internals and price action to decide when I wanted to take profits.
Pay attention to the market context

When would I not want to take this kind of trade?
Take a step back to late 2018.
Markets cratered as the Fed raised rates, causing investors to panic.
The uptrend snapped and volume exploded as traders ran for the exits.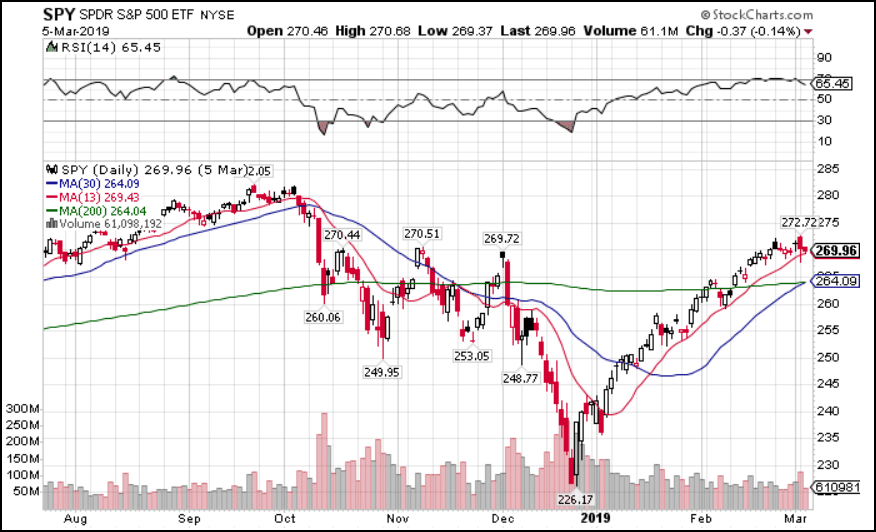 SPY Daily Chart
Looks eerily similar to the start of this year, doesn't it?
When markets are spinning out of control, they tend to eclipse historical statistics like this.
Similarly, when stocks started to make an almost parabolic move at the beginning of June and September, those can override this type of trade.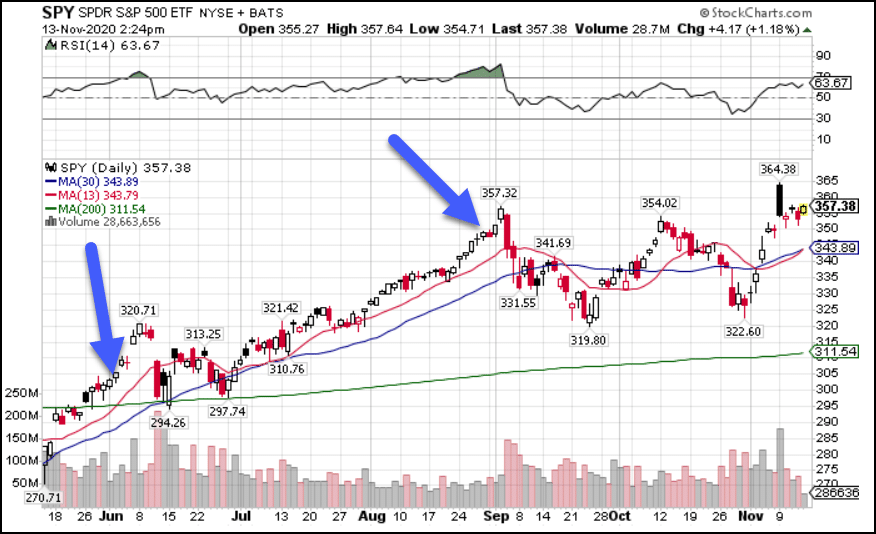 SPY Daily Chart
There aren't any hard and fast rules as to what position the markets should be in. But, you want to try to avoid market extremes when volatility (both up and down) is somewhat normal.
Markets are full of amazing trade ideas if you just know where to look.
And with my Weekly Money Multiplier service, I teach you some of the very same skills and techniques I used to turn my $38,000 account into over $2,000,000 in just two years.
With weekly live training, you're getting the trading education you deserve.
So join me for my upcoming webinar, where I lay out everything you need to know about my Weekly Money Multiplier service.